Death Trash - Post Trash Apocalyptic cRPG
Wander the pixelated apocalypse with Death Trash. A beautiful dark cRPG world where you wander the wasteland fighting mutants, shooting cool guns, and leveling up.
---
We are covering Death Trash, an upcoming post-apocalyptic cRPG game where you travel the wasteland fighting mutants, saving people, and leveling up.
Quick Summary (TL;DR)
Death Trash is an upcoming cRPG based in a wasteland dystopia
Customize your character with stats, in-game decisions made through a story-based campaign, and side quests
A Single-player classic RPG game with stealth, dialogue, crafting, psychic powers, and brutal fallout 2 style combat
Amazing pixel art design that turns a trash world into a beautiful masterpiece
Replay value with a massive world to explore, different choices that lead to changes in the story, and new characters to adventure with
Death Trash Review: First Impressions
The goal of Death Trash is to bring peace to the planet of Nexus where machines, mutants, and monsters wreak havoc.
In the Death Trash universe, humanity has traveled to the stars and found the planet of Nexus.
Machines were installed as protectors on Nexus, but they have been corrupted and now terrorize anyone still alive.
You play as a raider that walks through the desert wasteland fighting mutants and merely surviving.
Fate has led you to an Oracle who changes the path you walk on. You edge closer towards the war against the machines to save humanity on the planet of Nexus.
The game acts as a pixelated version of fallout 1 where you are walking through a post-apocalyptic world trying to loot what you can and level up through side missions and grinding enemies.
There is enough dialogue, puzzles, and exciting NPCs to keep you engaged while exploring the world and leveling up your character.
Like earlier fallout games, you have a map that you travel through to find undiscovered locations, villages, and main story areas.
As you walk through the map, you can get ambushed by random enemies, which creates a small level for you to battle in.
This sets you up for surprise combat where every corner of the map could lead to a deadly end or unexpected rare loot.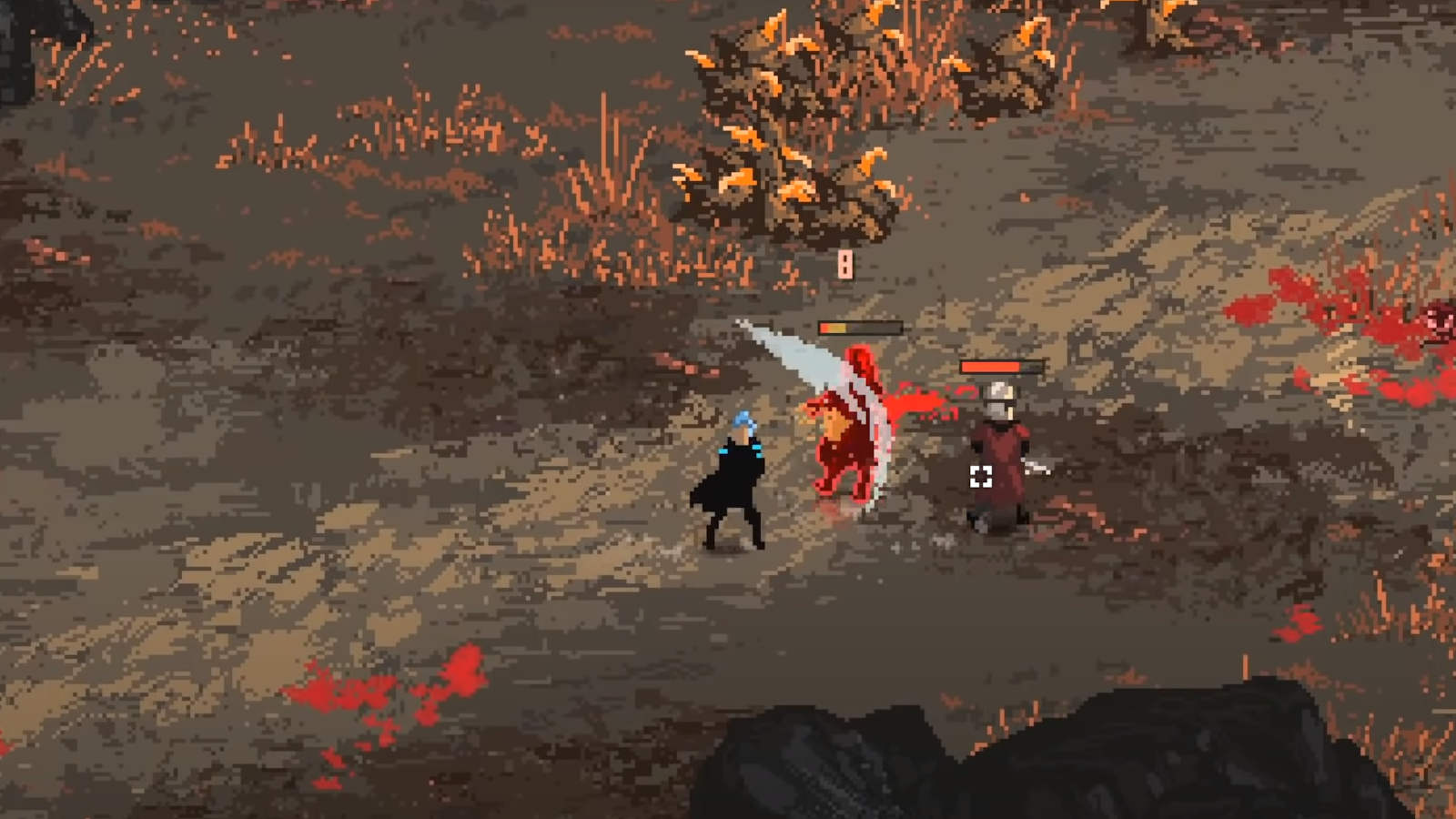 The game has a basic leveling up system that allows you to customize your character through stat increases, a straightforward inventory system, and all the weapons you can find.
Loot what you can, and then trade it at the local Machine Merchant to get the best gear in the wasteland.
You can turn your character into a brawling close-quarter-combat specialist with a spiked bat or a sword or focus on ranged combat with small pistol arms or medium-to-long-range rifles.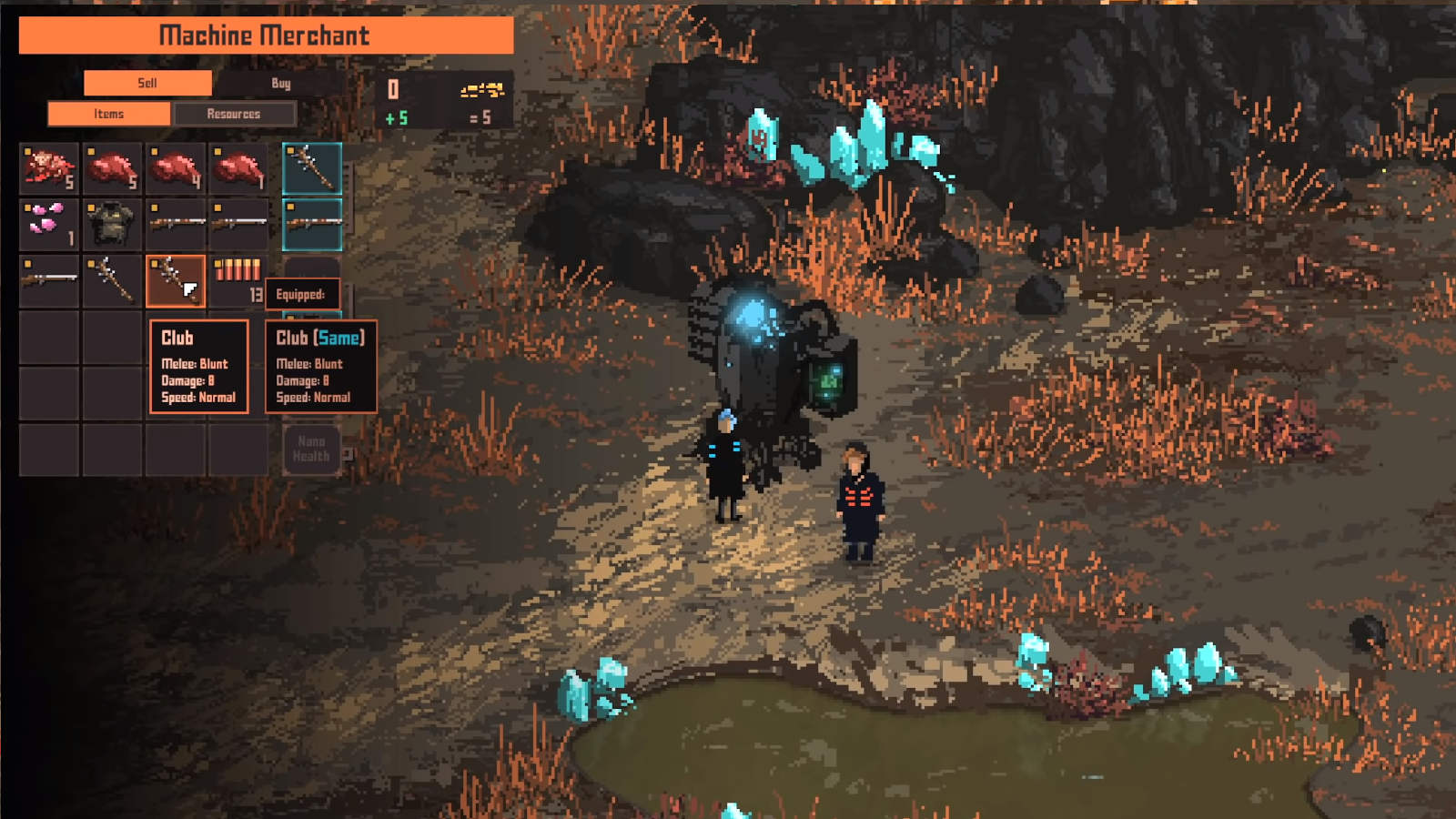 Death Trash is an excellent cRPG that utilizes modern game design to create a pixelated wasteland that you want to keep exploring.
The world is full of NPCs with meaningful conversations that can uncover the machines' secrets that control the planet.
Every small mission leads brings you closer to bringing peace and order back to Nexus.
Should You Buy And Play Death Trash?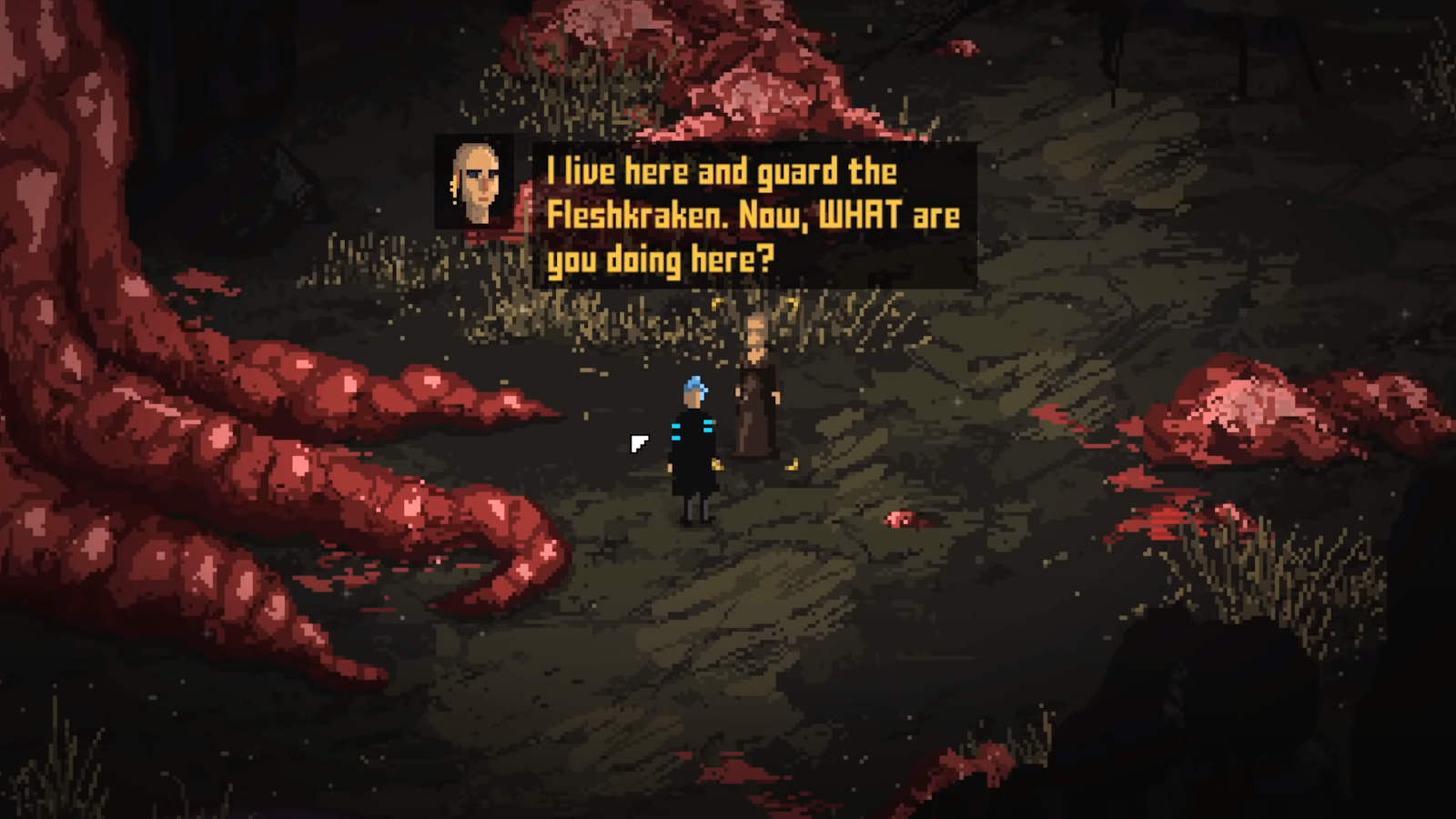 Death Trash is an exciting cRPG game that has you explore the wasteland, fighting robots, mutants, and psychics to discover the evil that created this apocalypse.
Your goal is to save villages and learn more about the machines once controlled the planet and are now the cause for its destruction.
The real-time combat system has you ducking and rolling, shooting and brawling multiple enemies at once.
The progression system follows the classic stats and ability upgrades as you level up after winning battles and completing missions.
Definitely worth checking out if you enjoy a short-and-sweet pixelated game that has depth to the story and world you fight in.
Pros:
Amazing pixel art design
Entertaining Puzzles, Dialogue and Campaign Story
Real-time combat system that requires skill
Cons:
Some people may not like the real-time combat
Verdict
Death Trash at a glance looks amazing, with a deep story, amazing pixel art, and interesting enemies. A big throwback to when I used to play Fallout 1 and 2, the game makes me want to explore and complete every side-mission to better understand the world. Definitely recommend for any cRPG and pixelated indie game fans!
Death Trash
Wander the pixelated apocalypse with Death Trash. A beautiful dark cRPG world where you wander the wasteland fighting mutants, shooting cool guns, and leveling up.
Date Released: Coming To PC 2021
Game Length: 20-40 Hours Of Gameplay
Genres: Indie, RPG, Cyberpunk, Action, Post-Apocalyptic
Platforms:
Steam,
itch.io
Tags: Single-Player
Developer:
Crafting Legends
Publisher:
Crafting Legends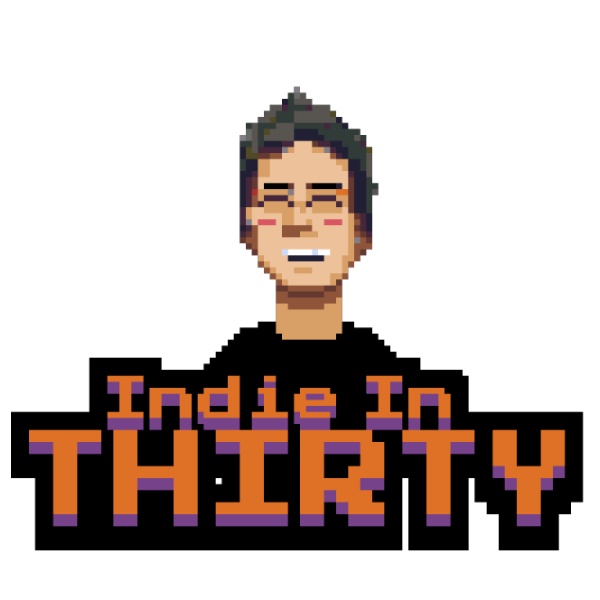 James is a gamer, writer and developer that covers various different gaming topics. His goal is to promote and encourage more indie game development that brings new and exciting game ideas to life.